Supermodel, Tyra Banks gets real in her new book, Perfect Is Boring: 10 Things My Crazy, Fierce Mama Taught Me About Beauty, Booty, and Being a Boss. In the book, she reveals a secret that most people didn't know…she wears fake hair (okay we did know that) and she had a nose job. Yeah she did. 
Banks reveals that she got a nose job early in her career. "I had bones in my nose that were growing and itching," says Banks. "I could breathe fine, but I added cosmetic surgery. I admit it! Fake hair, and I did my nose. I feel I have a responsibility to tell the truth."
Is Banks a fan of the the "no makeup/all natural look"? Not really. She compares  herself to fellow supermodel Gisele, "As a model, I needed makeup. I don't think there's anything wrong with that. It leveled my playing field. Gisele, you don't need it? I do! And we're both modeling for Victoria's Secret."
In the new issue of PEOPLE magazine, Banks talks more about her book and keeping it real with being a model, boss and having a great mom. Her book will hit stores on April 3rd.
Tyra Banks Hits The Big 4-0: Here's The GIFS To Prove It
1. Tyra's The Woman Of Many Faces
Source:
1 of 6
2. Hey Tyra, Are You Happy To Be 40?
Source:
2 of 6
3. Tyra Does Not Approve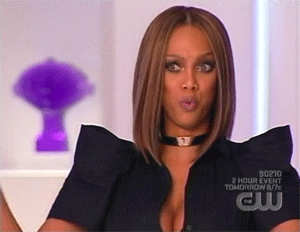 Source:
3 of 6
4. Word Of Advice From Tyra
Source:
4 of 6
5. No Really...
Source:
5 of 6
6. All My Single Ladies!
Source:
6 of 6